February 2018 Update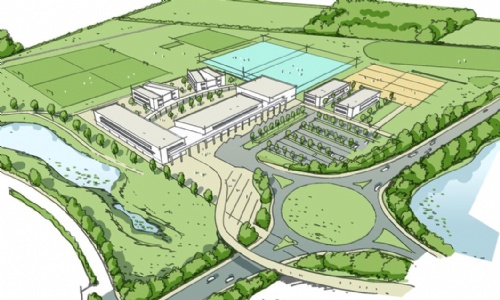 The Future for Sleaford
'Our vision is for there to be a co-educational establishment on a new site with world class facilities where every learner matters. It will be at the heart of the local community, encourage diversity, and promote inclusion within a selective setting, adding real value to learners' educational experiences. It will continue to work with local schools and partners including the community in education, health, the arts, business and sport, to extend learning opportunities beyond the classroom, promoting collaboration, innovation and lifelong learning. Creating a co-educational grammar school that more closely mirrors 'real life', thereby increasing the opportunities for social mobility, is the right way forward'.
Robert Carre Trust: Vision Statement
The aspiration to move to a state of the art school building was one of the considerations behind Carre's Grammar School and Kesteven and Sleaford High School working together as a Multi-Academy Trust. Much work is being done behind the scenes to continue to provide state of the art educational provision in the town for future students. The planned demographic changes in Sleaford lend itself to this, and some very exciting ideas to regenerate the centre of the town are inextricably linked with the two schools moving out of the town.
Since the last update a Project Board made up of staff and governors has been formed and regular updates are shared with the Trustees of the Robert Carre Trust. The Board and the Trustees are currently working to secure the funding that is required to move the project forward. It is the Trust's aspiration to be on the new site in September 2021 and all projective dates work back from that aspiration.
Next Steps
Whilst the current focus is on securing funding we have already conducted a feasibility study of the proposed site which forms part of the 'Sleaford Masterplan' or the Central Lincolnshire Plan. Local political support is also in place. Upon securing necessary finance, wider consultation will take place involving parents, students and all other relevant stakeholders within the town and the wider community. This consultation will focus on issues including moving to a model of co-education as well as exploring the benefits of co-locating the current schools onto a new site. Your views will be greatly valued as we look to shape the future education for the young people of Sleaford: we will continue to update you as plans progress.